Physically constrained but actively farming- The story of Abdul-Aziz N. Hood
This is the story of Abdul-Aziz N. Hood, who the ReDIAL project team engaged during field profiling of marginalized farmers at Techiman in the Bono East Region of Ghana.
The ReDIAL [Research for Development and Innovation Agriculture and Learning] project is a European Union (EU) four-year funded project in Ghana fostering innovation in improving soil fertility and innovative technology to improve threshing of Grains and Cereals.
The ReDIAL project has been profiling marginalized farmers in Techiman, Yendi, Donkokrom, Sefwi-Wiawso and Ejura to provide them with free access to innovative threshing and soil fertility support services to improve their agricultural productivity. It is during this profiling exercise that we met Abdul-Aziz at Tanoso, a suburb of Techiman.
The man Abdul-Aziz N. Hood
Abdul is 29 years. He is the eldest of three. He has been a farmer since 2013. When his father died sometime in 2012, financial difficulties prevented him from continuing his education to the university level. Limited in options, Abdul went to the man on whose land his father was farming to ask for permission to replace his father on the land use. This request was granted by the owner of the land who is presently living abroad.
Abdul's farm is 20 minutes' drive away on a branch route along the Techiman Kumasi Highway. With his wheelchair, he will paddle for a close to 2 hours before reaching the farm. At the farm, he works from one end to another with his hands on the ground.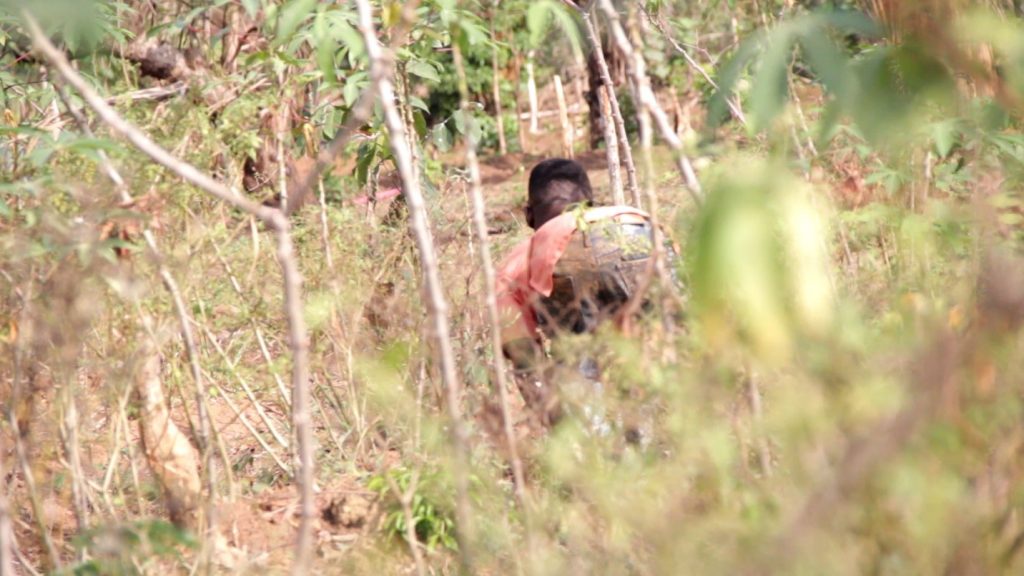 Abdul-Aziz cultivates cassava, yam, maize, cashew nuts and some few oranges. He harvests a minimum of 20 bags of maize in each of the two cropping seasons in a year if he gets fertilizer and other farming inputs. Similar quantities of cassava are harvested when he practices mixed cropping.
Embracing the odds
Farmers in Techiman, including Abdul-Aziz use manual and traditional farming practices; a highly laborious task. There are not many irrigation systems around Techiman so farmers largely practice rain fed agriculture. The challenge with it is the unpredicted rainfall patterns due to climate change, with it effect on crop yield. Many farmers have had to lose their investment due to the limited rains that meet their crops. Abdul-Aziz is no exception.
"You know, venturing agriculture also means preparing for the odd" Abdul said. He continued that, "last year 2020 was a nightmare to me. The rains did not come. I got the farmers group to clear four acres of land for maize and cassava cultivation. I got the seedlings from the local agric office. They planted the maize and applied some fertilizers I got from the agric office on them. Few weeks after planting, it stopped raining. The leaves from the young maize were also consumed by fall army worms that invaded the municipality and other parts of Ghana. So, all the four acres of maize I cultivated did not survive. I lost everything." Abdul Added.
During the 2020 Corona Virus pandemic, many farmers in Ghana who practice rainfed agriculture suffered lack of adequate rainfall. There was also the invasion of fall army worms. But Abdul said despite his loss last year, he was not going to give up on farming. "No, that will hurt me and all of us. I know my contributions are insignificant, but they at least add to other insignificant ones to become significant".
Apart from the weather, Abdul also spoke of the challenge he has had to deal with after harvesting what he gets from the farm. He struggles to assess thresher services to thresh his maize.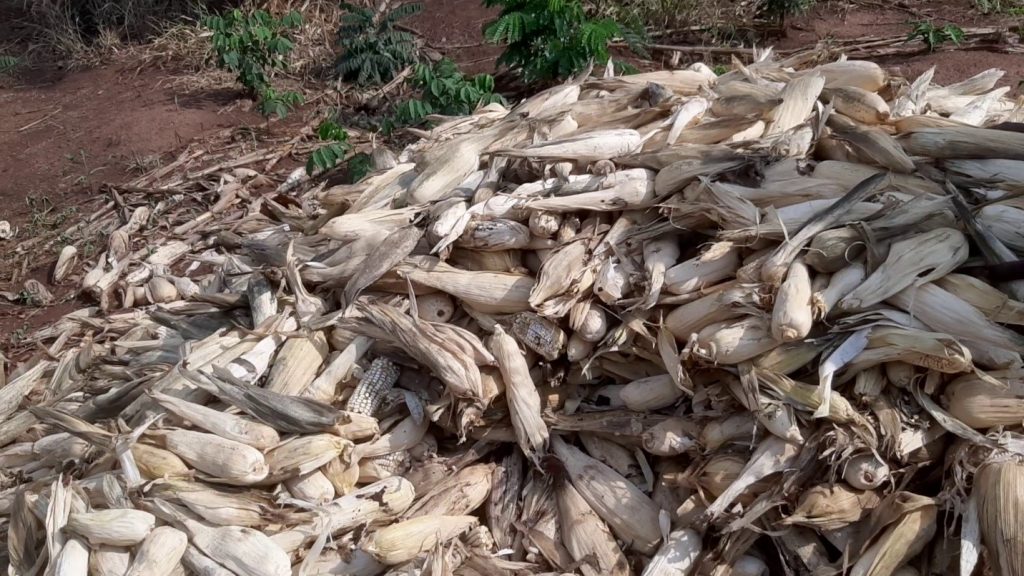 Techiman, despite playing a pivotal role in Ghana's food security systems is less mechanized in agricultural activities. From tilling of the land to planting and harvesting, famers have had to be manual in each of the stages.
For Abdul Aziz, he has had to worry over getting a sheller to thresh his crops because "at Tanoso here, there is only one thresher. In the main harvesting season of August, the operators [of the shellers] will want to deal with those with large scale maize farms, who have larger grains to thresh. Even though harvesting of maize is in August, Abdul Aziz explained that the earliest he could get a sheller is in November. If sheller breaks down, then he has to thresh his maize manually which involves labour and money".
So which method does Abdul deploy? He answered that "my whole farming activities depend on money. Unlike able persons who could assist themselves in some of the processes, I have had to pay for everything. This is the reason I prefer to send my produce to the market at the latter part of the year, by which time I could get a fairer price to offset my cost. I have had to ensure the maize is not moist by drying them constantly in the sun. Even though that is tedious, it somewhat pays".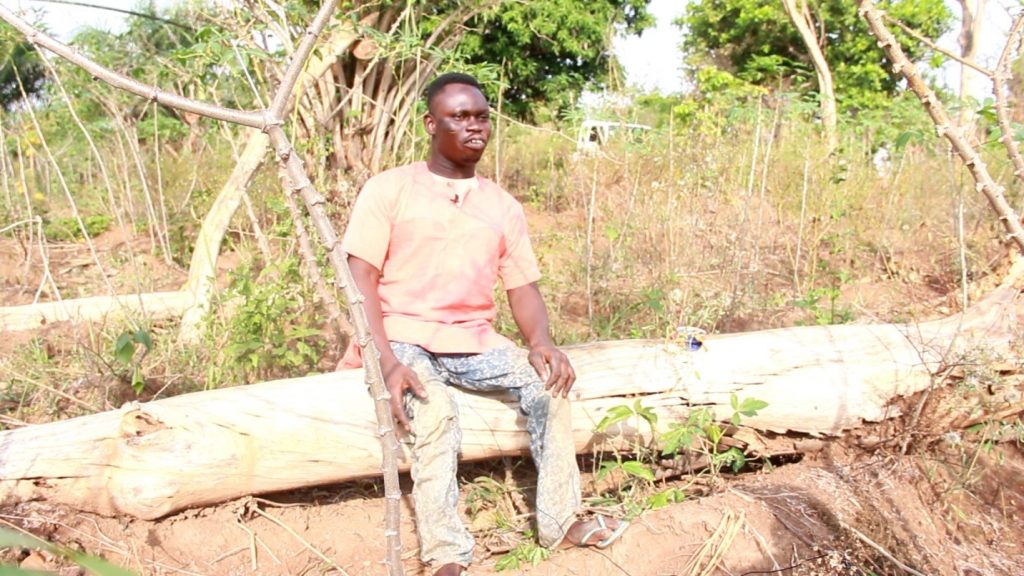 Abdul Aziz dreads going unto the streets for alms. It is in his considerate view, even though "my movements are physically constrained, I am mentally unchained to achieve that which I have set for myself. So long as I have the energy, I will want to be known someday that, despite been born with limitations, I contributed my quota to Ghana's food security." People like Abdul Aziz are part of the reason Techiman remains the basket of hope for food security for many Ghanaians.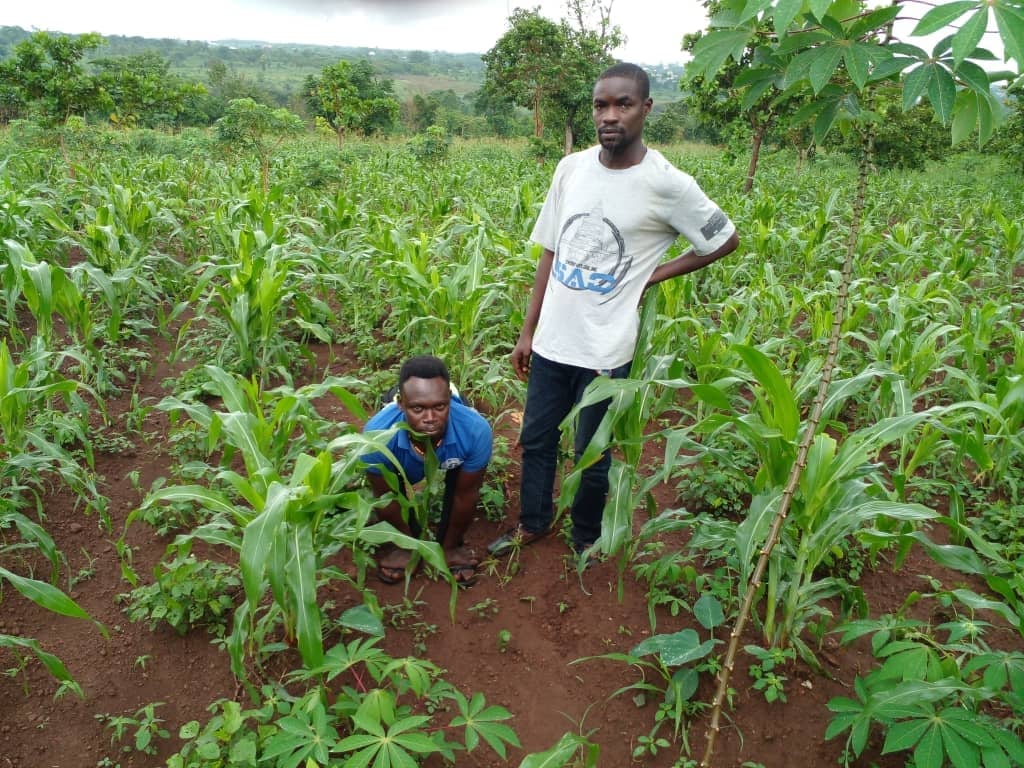 Abdul-Aziz has been identified by the European Union funded ReDIAL project to assist him deal with some of the challenges identified. The project is prioritizing small holder farmers like Aziz and other marginalized groups [especially women] with free thresher services, soil nutrient improvement services, capacity building through multi-stakeholder platforms created in five targeted farming zones in Ghana. [Kwahu Afram Plains, Sefwi Wiawso, Techiman, Ejura and Yendi]
Abdul Aziz will see soil scientist from the Faculty of Renewable Natural Resources of the Kwame Nkrumah University of science and Technology taking samples of his farm soil for analysis. The objective is to understand his soil's nutrient composition for the best of agricultural advice for improving his yield.
ReDIAL is being implemented by Friends of the Nation [lead partner], Tropenbos Ghana, SAYeTECH, the Faculty of Renewable Natural Resources of the Kwame Nkrumah University of Science and Technology, and Sesi Technologies.